More and more people choose to use the Electric Standing Desk. On the one hand, you can adjust the height of the table at any time. On the other hand, when you want to stand at work, you can also lift the table top to a height that can't be reached by a common desk. So, what should I pay attention to when using the electric lifting table?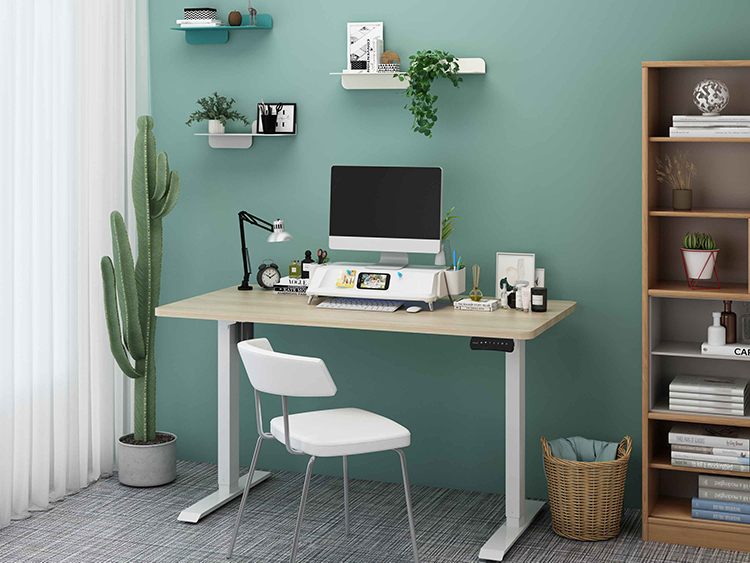 1. Adjusting posture is absolutely the point!

Before adjusting the height of desks and chairs, change your weird sitting posture of accommodating tables, chairs and computer screens! Strange posture every day to work for at least eight hours, over time, the spine, pelvis will have problems! Many office workers are prone to lower body edema and varicose veins in the legs, which are closely related to cocked feet and prolonged sitting without blood circulation. Therefore, when using the lifting table, the knees, waist and buttocks should be between 90 degrees and 125 degrees, the height of knees should be slightly lower than the hips, the shoulders should be opened and the hands should be placed naturally.

2. Other precautions:

After locking the suitable height of the table and chair, what small details should be paid attention to when using the lifting table? First, there's room for leg extension. Some lift tables, desk drawers, it seems that there is a lot of storage space, but actually it will squeeze to the feet.
Secondly, the size of the table top of the lift table. Many people always think that the bigger the table top is, the better it is? Can put more miles buckle small things, healing arrangement of small things. However, the size of the table should be within the range of "sitting and getting things". Otherwise, if you want to get a paper clip, you have to leave the seat. Isn't it inconvenient


Uplift is an enterprise that produces intelligent desk, specializing in the production of electric lifting table, office lifting table and other healthy intelligent lifting furniture. The company has experienced design team, integrity of the sales team, the R & D team and closely cooperate with the production of excellent manufacturing base. Medest electric lift table, 2 years replacement, 5 years warranty, free installation. Welcome to the website consultation, purchase cooperation!


Suzhou Uplift Intelligent Technology Co., Ltd
Business Type:Manufacturer
Product Range:Computer Desks , Office Desks , DC Motor
Products/Service:Computer Desk , Office Desk , Height Adjustable Desk , Electric Linear Actuator , Standing Desk , Electric Standing Desk
Certificate:CE , FDA , RoHS , TUV , ISO9001 , EMC , UL
Company Address:NO.4955, East Taihu Road, Linhu Town, Wuzhong District,, Suzhou, Jiangsu, China


Previous: No matter "standing office" or "sitting office", too long time is not conducive to health.
Next: Intelligent electric standing desk "sitting standing" alternation, creating a comfortable office environment