Intelligent Electric Standing Desk to create a good standing working environment! Standing work environment is to maintain a good working state, to provide a different choice, not to let people stand for work forever.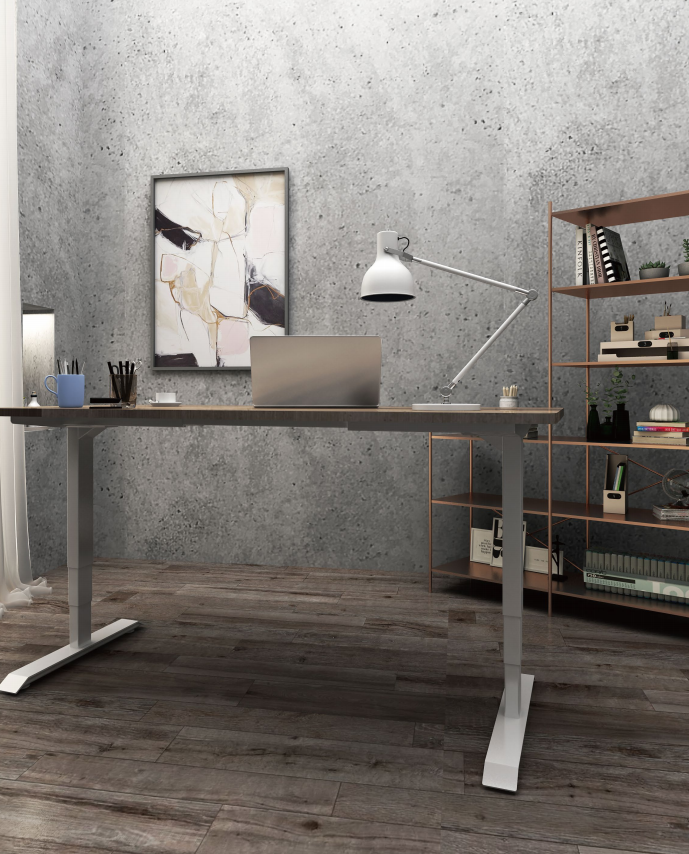 People can sit down when they are tired, and they can stand up again when they are tired. It is good for everyone to adjust according to their own needs and comfort. Intelligent lifting desk is a new type of standing office furniture. Intelligent lifting can adjust the height of the desktop at will.
The intelligent desk is mainly composed of desktop, lifting leg, foot, frame and intelligent lifting control system. Its core components are lifting table leg and intelligent lifting control system. The intelligent lifting control system controls the lifting movement of the legs of the lifting table, so as to drive the height adjustment of the table top.
Upliftstanding desk is electric lifting function, which can meet the needs of people of different heights. It advocates the healthy office mode of alternate sitting and standing.

Features of intelligent electric Standing Desk:

(1) Electrical control height adjustment, convenient and fast operation;

(2) The lifting process is safe and stable, with low noise and strong compression resistance;

(3) LED backlight control panel, real-time display of desktop height, sedentary reminder and other functions;

(4) Multiple preset buttons can memorize different heights with one key;

(5) The metal structure is made of high-quality cold-rolled sheet steel, which has strong structure and beautiful appearance;

(6) The foot is equipped with a universal adjustable foot pad, which can be automatically flat on the ground, and the table body is stable without shaking.
Uplift is a production of intelligent desk intelligent lifting office furniture enterprises. Professional production of intelligent desk, lifting desk, and other healthy intelligent lifting table furniture.

Suzhou Uplift Intelligent Technology Co., Ltd
Add:NO.4955, East Taihu Road, Linhu Town, Wuzhong District, Suzhou China
Web:www.upliftec.com
Tel:13382165719/86-0512-66591748
Eamil:info@upliftec.com